"Masterpieces" Screening
Monday, October 23
7pm
"Masterpieces" is a magnificent journey to 8 of frank Lloyd Wright's finest buildings, including such famed structures as Fallingwater and the Johnson Wax Administration building, plus the lesser known gems Cedar Rock, the Stanley Rosenbaum house, and the rarely seen Auldbrass Plantation. Film running time: 95 mins.
Please note that the previously scheduled Q & A with filmmaker Michael Miner has been cancelled as Mr. Miner is unable to attend.
Sponsored by

Pedro E. Guerrero: Portrait of an Image Maker Screening with Remarks by Dr. Emily Bills
Monday, November 6
7pm
In celebration of the 100th anniversary of Pedro Guerrero's birth, join us for a special screening of Pedro E. Guerrero: Portrait of an Image Maker, a production of Gnosis,Ltd. Photographs selected from Guerrero's 60-year historical archive illustrate the story of a man who came from humble beginnings but went on to photograph the work of celebrated artists Frank Lloyd Wright, Alexander Calder, and Louis Nevelson. Opening remarks will be provided by Dr. Emily Bills, Participating Adjunct Professor and Coordinator of the Urban Studies Program at Woodbury University. Film running time: 70 mins
The Unknown Craftsman: Creating, and Re-creating, Furniture designed by Frank Lloyd Wright
Thursday, November 16
7pm
A Wright Design lecture by Alan Anderson in partnership with the Wisconsin Humanities Council's Working Lives Project
Mr. Anderson will share how he studied the history of furniture making at the Darwin Martin House, including the iconic barrel chairs, in order to learn the original craftsmen's woodworking techniques necessary to recreate these works of art.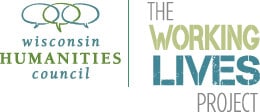 ---
NOTE:
FREE ticket required for admission. Tickets are available subject to venue capacity and are issued on a first come first serve basis. If not sold out, tickets will be available at the event starting at 6:30pm.
---
The Wright Design Series was inspired by master architect Frank Lloyd Wright who, although known for his architectural designs, also created designs in furniture, clothing, textiles and tableware. The free lectures and discussions highlight a wide array of design topics including architecture.