---
A Look at the Black Aesthetic in Redeveloping Madison's Southside
Presented by Rafeeq Asad, Vice President and Director of Team Development at JLA Architects
Heralded as a rising thought leader in design justice, Rafeeq Asad is an artist, designer, and mentor. He has broad experience designing inspiring cultural spaces for communities ranging from libraries and educational facilities to complex multi-use facilities to science and technology centered project typologies.  Asad is deeply passionate about uplifting the community and inspiring youth about architecture and the built environment.  In 2019, he worked in partnership with other minority architects in Wisconsin to establish the state's first National Organization of Minority Architects (NOMA) Chapter and currently serves as President.
Asad will focus on two new projects in Madison, The Black Business Hub and The Center for Black Excellence and Culture, as examples of the 'Black Aesthetic' incorporating elements of drama, 'will to adorn', and asymmetry, among other qualities.
This free program is presented in partnership with WiscoNOMA and American Institute of Architects Wisconsin. Continuing education credits are available for AIA members.
---
Sustainable Design: What are we Missing in our Efforts to Curb Global Warming?
Presented by Eric Truelove, Principal Engineer, LEED AP
Global warming due to human activities has been well established in the scientific and government communities for decades and has been identified as the greatest crisis of our time. Nevertheless, despite the attention and press given to this topic, very little has been done to slow the increase in global warming gases being released worldwide. What are we missing?  Presenter Eric Truelove will provide ideas, based on his 40+ years in the energy and construction industries, as to why the current approach in the United States is failing and how an alternate approach can yield results quickly by engaging the market rather than pushing it.
Eric Truelove has been a consultant in the energy and construction industries since 1989. Truelove is a registered professional engineer and has participated in over 50 LEED and over 50 Green Globes projects. He is the founding Principal of Green Building Resources LLC, a consulting firm providing engineering analysis, design, and commissioning for commercial, institutional, and industrial buildings.
This free program is presented in partnership with Wright in Wisconsin and American Institute of Architects Wisconsin.
---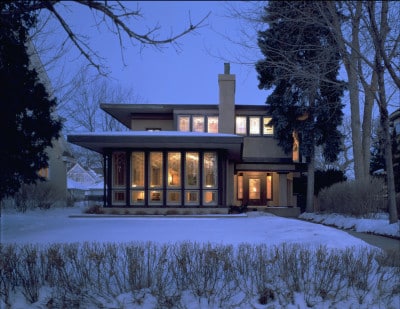 Purcell & Elmslie – Spiritualistic Place-Making
Presented by Richard Kronick
Mr. Kronick is a full-time freelance writer since 1985 specializing in architecture and engineering. He is the co-author of two books: "Prefurbia: Reinventing the Suburbs From Disdainable to Sustainable" and "Neighborhood Architecture: Irvine Park Saint Paul"—a coloring book – winner of 2