WEDDINGS
Imagine a place where nature and architecture live in perfect harmony. A place where sweeping views frame the ideal wedding venue for sweeping you off your feet. It's no wonder so many couples choose Monona Terrace as the place to celebrate the beginning of their lives together. Monona Terrace marries the ideal location with service and style to help you create an event to cherish and remember – forever.
SAY I DO
Imagine Celebrating Your Special Day at Monona Terrace
Monona Terrace makes a remarkable impression for any event. But the location is just one piece of the event-planning puzzle. At Monona Terrace, you'll have a dedicated Event Coordinator ready to help you create a day that's more than memorable. We're here to attend to every detail so that it is as enjoyable for you as it is for your guests.
LET US MAKE YOUR DAY PERFECT
Wedding Resources
REMEMBER IT FOREVER
Your Perfect Day
You've waited all your life to make your wedding dreams come true. For your special day, choose Madison's most engaging, enchanting location—Monona Terrace!
A SPACE FOR EVERY EVENT
Rooms and Spaces
Whether you´re planning a wedding for 40 or 1,000, Monona Terrace offers the best spaces to wed in one of the Midwest´s most vibrant cities.
From glass enclosed lakeside spaces to stunning rooftop terraces to a banquet hall that seats 1,000—there is a space for your perfect wedding at Monona Terrace.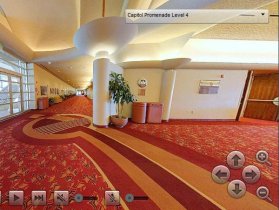 Virtual Tour
Take a 360 virtual tour of Monona Terrace
360 Virtual Tour
Explore the entire building—level by level and room by room.