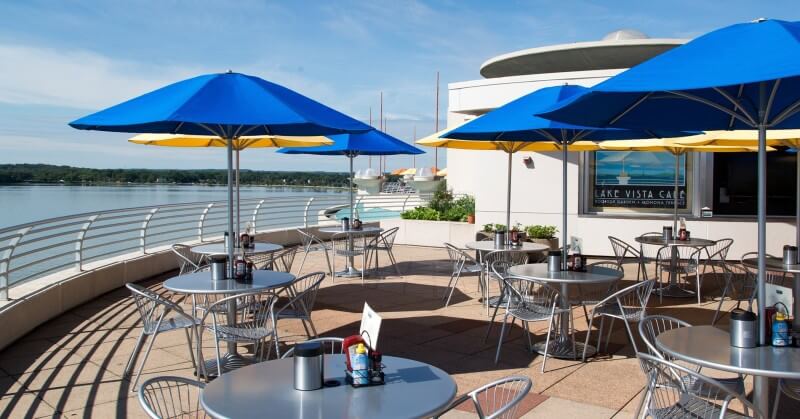 Lake Vista Café
Enjoy sprawling views of Lake Monona and downtown Madison's cityscape at Lake Vista Café, located in the William T. Evjue Rooftop Gardens. It's the perfect stop for lunch, dinner or happy hour.
Hours: Monday 11am-3pm Tuesday – Sunday 11am-7pm (open until 8pm June – August) Hours may vary due to inclement weather. Closed Memorial Day, July 4th, and Labor Day
Appetizers
Hummus Plate V (can be GS) $9.25
Homemade Hummus, Pita Bread, Cucumber, Feta, Kalamata Olives, Cherry Tomatoes
Farmer's Market Cheese Curds V $7.95
Fried Fresh Cheese Curds, Ranch
Cheese Board V, GS $9.95
Aged Cheddar, Feta, Brie, Dried Cranberries, Dried Apricots, Mixed Nuts, Grapes, Strawberries
Homemade French Fries V 1/2 LB $3.00, 1 LB $4.50
Tomato Rémoulade
Hearts of Palm Ceviche Vegan, GS $7.95
Hearts of Palm, Yellow Pepper, Orange Pepper, Tomato, Red Onion, Cucumber, Cilantro, Lime, Jalapeno, Chili-Lime Tortilla Chips
Cauliflower Fritters V, GS $7.25
Grilled Fritters (5), Crème Fraiche, Tarragon Pesto
Curry Chicken Salad $6.95
Curry Seasoned Chicken Salad, Wonton Cup, Chili Oil, Micro Greens
Salads
Ancient Grain Salad Vegan $9.95
Quinoa, Millet Seed, Farro, Wheat Berries, Lentils, Dried Cranberries, Dried Apricots, Golden Raisins, Celery, Red Onion, Scallions, Pomegranate Seeds, Lemon-Champagne Vinaigrette
Farmer's Market Tomato and Cucumber Salad Vegan , GS $10.95
Dane County Farmer's Market Tomatoes, Cucumbers, Red Onion, Arcadia Greens, Fresh Basil, Balsamic Drizzle, Olive Oil
Strawberry Walnut Salad V, GS $10.95
Arcadia Greens, Feta, Mint, Strawberries, Toasted Walnuts, Smoked Orange Vinaigrette
Salad Enhancements
Grilled Chicken Breast add $3.50
Sliced Avocado add $2.50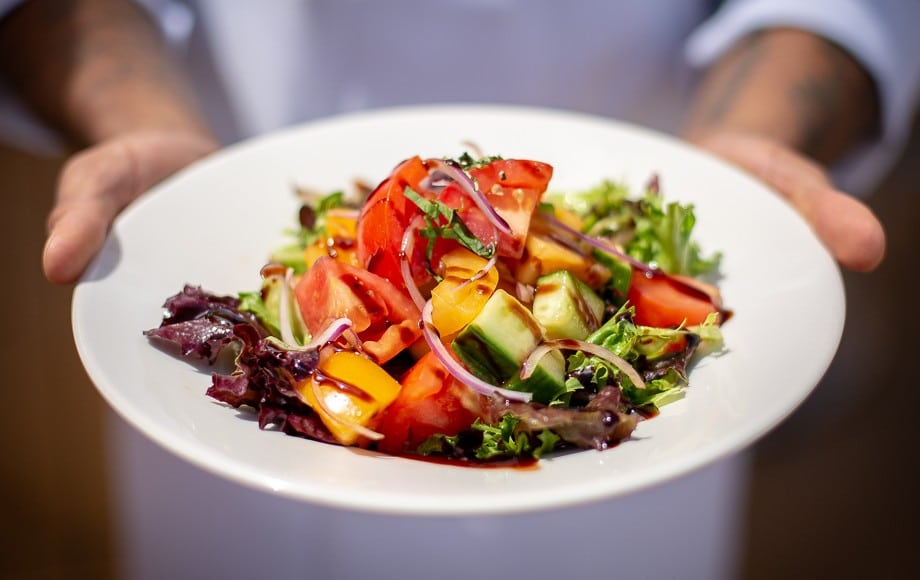 Entrées
Soba Noodle Lo Mein with Chicken or Tofu $11.95
Sautéed Soba Noodles, Red Cabbage, Cucumber, Red Pepper, Cilantro, Sesame Seeds, Miso-Sake Dressing, Choice of Soy Glazed Chicken or Tofu
Vegan Zucchini Noodle Pad Thai V, GS $10.95
Shredded Carrot, Red Pepper, Cilantro, Basil, Scallion, Chopped Peanuts, Jalapenos, Thai Peanut Dressing
Chimichurri Pork Medallions GS $11.95
Grilled Pork Tenderloin, Chimichurri, Chili Polenta Cakes, Asparagus
Fish Tacos GS $8.95
Corn Tortillas (2), Grilled Adobo Cod, Fresh Pico de Gallo, Pickled Onion, Shredded Cabbage, Chili Sauce, Black Bean-Mango Salad
Extra Taco add $1.50
Sandwiches
All Sandwiches Served with Kettle Chips
Substitute Fries for $1.50
Gluten Sensitive Buns Available for $1.50
*LVC Signature Hamburger $9.95
Our Own Special Blend of All-Natural Beef cooked-to-order. With Tomato Confit, Cabbage tossed with Pickles, Caramelized Onions, Bacon Aioli
Homemade Vegan Black Bean Burger V $8.95
Hydro Butter Lettuce, Farmer's Market Tomato, Vegan Chipotle Aioli
Burger Enhancements:
Cheddar Cheese add $.50
Hickory Smoked Bacon add $1.95
Avocado add $2.50
Pork Banh Mi $9.95
Shredded Pork, Pickled Daikon Carrot and Onion, Cucumber, Cilantro, Sesame Seeds
LVC Chicken Sandwich $10.95
Brined All Natural Coleman Chicken Breast, Pesto Aioli, Peppered Bacon, Farmer's Market Tomato, Hydro Butter Lettuce
Spotted Cow© Beer Battered Cod Sandwich $10.95
Fried Cod, Pickled Red Onion, Tomato, Roasted Garlic Tartar Sauce, Fresh Slaw
Pita BLT $8.95
Wheat Pita Pocket, Hydro Butter Lettuce, Farmer's Market Tomatoes, Peppered Bacon, Roasted Garlic Aioli
Desserts
Homemade from our In-House Bakery
Homemade Ice Cream or Sorbet of the Day $3.25
Homemade Sea Salt Chocolate Chunk Cookie $1.95
Cold Beverages
Sodas Small $2.00 Large $3.00
Homemade Iced Tea Small $2.00 Large $3.00
Homemade Iced Lemonade Small $2.00 Large $3.00
Bottled Water $2.50
Milk $1.50
Coffee Drinks
Rising Shores® Coffee $2.00
Locally roasted by Just Coffee Co-Op
Cold Brew Coffee $3.00
Iced Café au Lait $3.50
Iced Frappe – Mocha or Caramel $4.25
Lakeside Kids
For our Young and Young-at-Heart Guests
Meal Special $6.50
Chicken Fingers, Grilled Cheese, or Pita Pizza (Cheese or Pepperoni)
Includes a Choice of :
Tater Tots, Baby Carrots, or Apple Slices with Peanut Butter and a Small Soft Drink or Milk
GS – Gluten Sensitive Menu Option
V – Vegetarian Menu Option
*Eggs served over-easy, poached, sunny-side-up, or soft-boiled and hamburgers and steaks that are served rare or medium-rare may be undercooked and will only be served upon the consumers' request. Whether dining out or preparing food at home, consuming raw or undercooked meats, poultry, seafood, shellfish, or eggs may increase your risk of food borne illness.
Specialty Drinks
Frozen Margarita $8.25
Frozen Piña or Raspberry Colada $8.25
Bloody Mary $8.25
Vista Sunset $8.25
Jose Cuervo, Pineapple Juice, Cranberry Juice
Summer Daze $8.25
Peach Vodka, Mango White Claw
Lakefront Lemonade $8.25
Bacardi, Blue Curacao, Vista Lemonade
Sangria $8.25
Draft Beer 16oz
Leinie's Summer Shandy, Chippewa Falls, WI $6.50
Spotted Cow, New Glarus, WI $6.50
Beer
Corona, Mexico $6.25
White Claw Hard Seltzer, Chicago, IL $6.25
Black Cherry, Mango
Terrapin Hopsecutioner, Athens, GA $6.25
Hopalicious, Madison, WI $6.25
Capital Amber, Middleton, WI $6.25
Bud Light, St. Louis, MO (16 oz) $6.25
Miller Light, Milwaukee, WI (16 oz) $6.25
Wine
Rising Shores® Chardonnay $6.00 gl $27.50 btl
Rising Shores® Pinot Grigio $6.00 gl $27.50 btl
Rising Shores® Cabernet Sauvignon $6.00 gl $27.50 btl
Wollersheim Blushing Rose $6.00 gl $27.50 btl