Lake Vista Cafe
The best rooftop dining experience in Madison.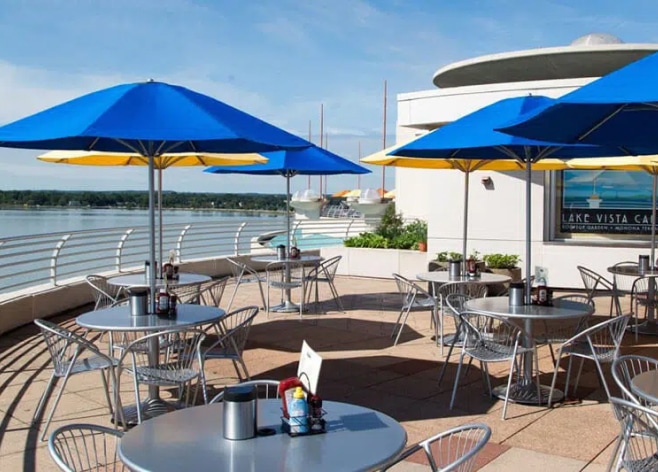 LEVEL 6 – WILLIAM T. EVJUE ROOFTOP GARDENS
Lake Visit Café
Enjoy sprawling views of Lake Monona and downtown Madison's cityscape at Lake Vista Café, located in the William T. Evjue Rooftop Gardens. Lake Vista Cafe is the perfect place to enjoy rooftop dining at its finest. It's one of the best spots in all of Madison to relax with a glass of wine and good friends. Choose from both indoor and outdoor seating in a relaxed, gourmet-casual atmosphere.
The delicious menu includes local favorites like cheese curds and fish, as well as global dishes and everything in between to satisfy just about any craving. Appetizers, salads, sandwiches and entrees can be enjoyed with an assortment of beverages, such as wine, beer, lemonade and other choices. Lake Vista Cafe is kid-friendly, and the staff is terrific too!
Whether you're here to take in the amazing views from the rooftop garden, an event, or to visit Monona Terrace, Lake Vista Cafe offers a dining experience that truly treats all your senses. It's a prime location for locals and vacationers alike and not to be missed when visiting downtown Madison.
Weather permitting, Lake Vista Cafe typically is open May through September for lunch and dinner.
Lake Vista Cafe can also be booked for private events.
Opening for 2023 Season mid-late May