Frank Lloyd Wright and Monona Terrace
THE JOURNEY TO MONONA TERRACE
Frank Lloyd Wright
Frank Lloyd Wright originally proposed a design for a "dream civic center" in 1938. His architectural vision for the City of Madison – a curvilinear gathering place that would link the shore of Lake Monona to the State Capitol – has now been realized. With interiors redesigned by Taliesin architect Tony Puttnam, Monona Terrace spans ninety feet out over shimmering waters, incorporating thoroughly modern technology and amenities with the architect´s signature organic design.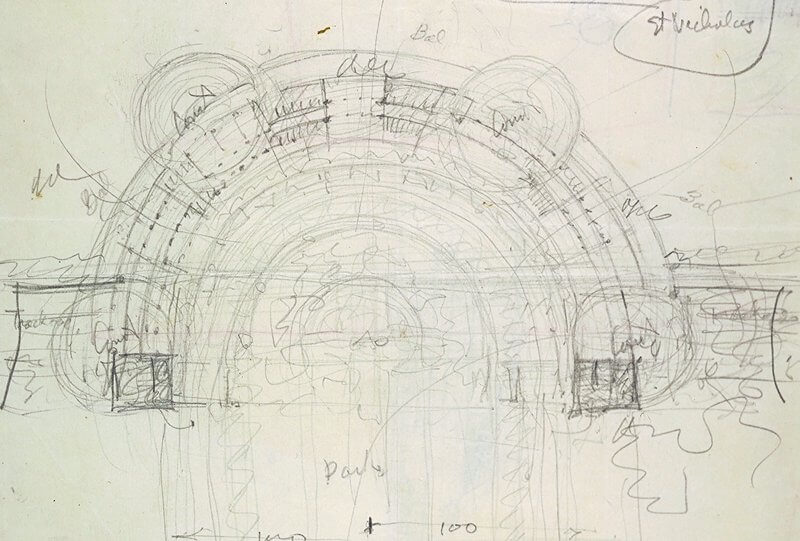 1867
Frank Lloyd Wright is born on June 8 in Richland Center, Wisconsin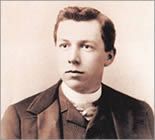 1878-1887
Wright moves to Madison and spends his summers working on his uncle's farm near Spring Green, Wisconsin. Later, he takes engineering courses at the University of Wisconsin-Madison.
1889
Wright marries Catherine Tobin. They settle in Oak Park, Illinois, where Wright builds his Home (1889) and Studio (1898).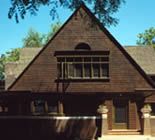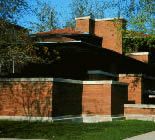 1909
The Robie House is built near Chicago, Illinois. Representing the culmination of Wright's Prairie Style architecture, he describes it as "the cornerstone of modern architecture."
1909
Noted urban planner John Nolen prepares Madison's first master plan, calling for a series of government buildings connecting the Wisconsin State Capitol with Lake Monona and a lakeside Park. Nolen's design featured a grand set of terraces stepping down to the lakeshore.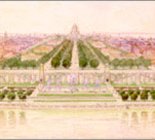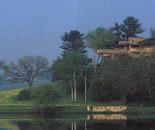 1911
Amid personal and professional scandals, Wright leaves Oak Park and builds Taliesin near Spring Green, Wisconsin. It would serve as his home, studio, architectural school and refuge for the remainder of his life.
1937
The effects of his personal scandals and the financial crisis of the Depression devastate Wright's practice. He responds with an altered architectural style he calls Usonian, with the goal to design affordable housing and communal housing communities. Wright effectively pioneers the concept of the ranch-style home with Madison's Jacob's I, the 1st of 140 Usonian houses built.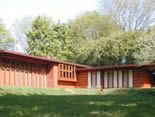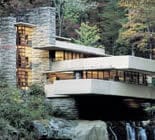 1938
Wright's reputation soars with the success and positive publicity of several landmark projects, including Fallingwater in Pennsylvania and the S.C. Johnson Wax Administrative Building in Racine, Wisconsin. Time Magazine calls him "the greatest architect of the twentieth century."
1938
Wright generates his first proposal for Monona Terrace, to be built on the site of the current Monona Terrace. The plan included an auditorium, rail depot, marina, courthouse and city hall. Local newspapers refer to the project as the "Dream Civic Center" linking Wisconsin's State Capitol with Lake Monona. Wright presents his plan to the County Board, who defeat it by a single vote.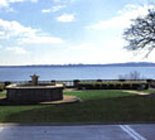 1941
Madison voters approve funding for a municipal auditorium, and Wright introduces his Monona Terrace plan with some modifications. Wright was gathering support for the project when World War II intervened.
1954-1955
In the post-war economic boom, Madison voters approved a $4 million bond referendum for an auditorium and civic center. Wright is narrowly approved as the architect, and the current site of Monona Terrace is selected. Wright said that being elected project architect for the Monona Terrace by the people of Madison meant more to him than any other award.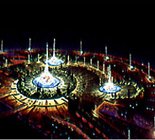 1957-1959
The Monona Terrace project is effectively destroyed in 1957 by a passage of a bill reducing the height of a lakefront building on the site to 20 feet. The law is repealed two years later, and Wright completes his last rendering.
1959
Wright dies on April 9 in Arizona at age 91.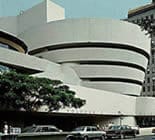 1959
The Guggenheim Museum in New York City, Wright's last commission, opens in October. Its fluid, curvilinear form is strikingly similar to his design for Monona Terrace.
1966
The City commissions Taliesin Architects to prepare a master plan, the "Monona Basin," encompassing approximately three miles of shoreline, including the Monona Terrace site, and to design the first phase of the project, a 2,500 seat performing arts center. But construction bids are well over budget and the Mayor halts the project.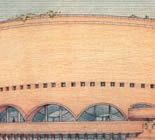 1974
A referendum vote eliminates the Monona Basin auditorium and civic center project.
1980
The city encourages developers to submit proposals for a convention center, all of which fail.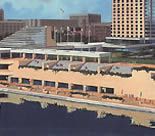 1990-1992
Monona Terrace is revived as Madison's Mayor urges civic leaders to transform Wright's 1959 civic center into a convention facility. Voters narrowly approve the project in 1992.
1992-1994
Funding is secured through the City of Madison hotel room tax and bonds, direct support from the State of Wisconsin and Dane County, and over $8 million in private sector contributions. The facility costs $67.1 million.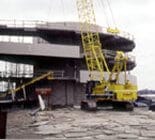 1994
Construction begins on the $67.1 million project, funded by City of Madison hotel room tax and bonds, direct support from the State of Wisconsin, Dane County and private sector contributions.
1997
Monona Terrace Community and Convention Center opens in July, 59 years after the inception of the project.