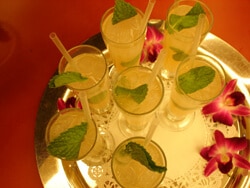 Selecting the right beverage service for an event can be a weighty task. As an event planner, or meeting organizer, you know a smooth beverage service can enhance a seamless event flow resulting in focused, energized attendees.
Here are a few simple guidelines for choosing a beverage execution that's perfect for your next business event:
DO: Kick off the event successfully by having servers walk among guests with a tray of captivating signature cocktails. This welcoming gesture will take some pressure off the bar, while leaving attendees free to mingle and connect.
DON"T: Forget to budget accordingly when hosting an open bar for the duration of the event. Guests may drink more heavily when they know you're taking care of the entire bar bill. If your budget is tight, you might consider hosting the first hour only or handing out a set number of tickets per attendee, only paying for what's redeemed. Keep guests focused on the real purpose of the gathering: the business meeting or convention.
DO: Reach out to a catering professional early in your planning. We"re here to answer any looming questions or concerns you have regarding your beverage menu. Our experienced staff may also offer unique suggestions you may not have considered.
DON'T: Cut back on the staff. At the very minimum, you should have one bartender per 100 guests, if guests will be visiting the bar throughout the night. Plan for more if you have beverage breaks between sessions with more attendees approaching the bar all at once. Also consider a potential for a busy bar at the beginning of your event.
DO: Place a bottle of wine on tables during dinner service. Sipping wine during dinner will help keep guests' minds off the cash bar, while also managing the amount of beverages consumed.
DON'T: Cram bar stations into an already crowded meeting space. Plan that each bar station includes a front and back bar and space in between for the staff. Plus, you need space in front of the station where attendees can order, wait for their drink and connect with other guests. If you're tight on space, place your bars just outside the meeting space in common areas.
DO: Plan for plenty of non-alcoholic beverages and set up a conveniently located water station where guests can fill up often. You can also take a break from the alcoholic offerings with a gourmet coffee bar, featuring fresh-baked desserts from your event caterer.
We're confident that when you take the time to follow these simple dos and don'ts, your next business meeting or convention can be a brilliant success story. Never hesitate to contact certified catering professionals, like the ones at Monona Catering, if you have any other questions or concerns regarding your event beverage offerings.
Cheers!
By Patty Lemke, CPCE, Monona Catering