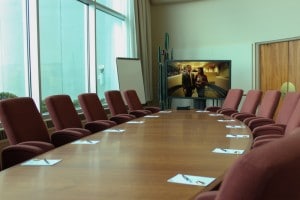 A meeting space can mean the difference between a good meeting and a great one. The
environment in which you host a meeting can help encourage creativity and revive energy. Sometimes the beige walls of a hotel conference room just don't offer the inspiration needed to ignite thoughtful conversations. Find four inspiring options below to help you think outside the four walls of the conventional convention center.
1.  Find a room with a view. Meeting rooms with windows that allow natural light and views of the environmental surroundings help keep energy high and creativity flowing. The Dane Room and Wisconsin Room are two of the most impressive meeting areas at Monona Terrace. With one wall in each room made up entirely of windows, they offer an incredible view of Lake Monona – a unique "wow" factor not often associated with meeting rooms.
The large oval table in these rooms encourages interaction between participants and gives a sense of community. Each room seats 15 people and is ideal for executive meetings, strategic planning and creative gatherings. Many use these rooms when they want to get employees away from their normal work environments and into a space where they can literally think outside the box.
Another Monona Terrace space, the Grand Terrace, features an expanse of windows that offers an unbeatable view of the lake – a great place to spark creativity.
2.  Try a lecture hall. Consider hosting your event in an atypical meeting room. Monona Terrace's Lecture Hall is a great option for presentations and entertainment events. The room has an intimate feel even though it seats 300 people. The curvature of the seating rows allows for great views of the screen and stage from anywhere in the room.
3.  Let the meeting continue outside the room. It's important to offer meeting attendees an opportunity to network and communicate informally. Monona Terrace is designed in a way that encourages participants to "continue the conversation" outside their meeting rooms. Comfortable living room-type chairs in groupings of two and four and bench seating provide the perfect space for attendees to sit, chat and regroup.
For those looking to get some work done during down times, Monona Terrace also offers comfortable seating nooks and workstations with electrical and USB connections.
4.  Look for versatility. Rooms that offer variety in terms of set-up and space is a great way to get the most out of your meetings. It allows you to get creative with furniture arrangement and gives your attendees the freedom of more space. The Madison Ballroom at Monona Terrace is just that type of room. Groups can use one, two, three or all four sections of the space, depending on need. Because there are no obstructions in the room, there are many different options for room set-up and styles.
Infuse your meeting with creativity by selecting an unexpected meeting space. For more information about great rooms available at Monona Terrace, contact Laura MacIsaac, CMP, at 608-261-4016.