Unique Venues Can Lead to Unique and Better Conferences
The venue for a conference or convention is one of the most critical aspects of the event. From influencing the tone of the conference, to the logistics for the attendees, the venue sets the stage for all that follows. Choosing a unique venue can have a dramatic effect on a conference's success.
From the breathtaking design of Frank Lloyd Wright to the central downtown location to the amazing views of Lake Monona, there's a lot going for Monona Terrace as an exceptional convention, conference or event venue. But believe it or not, there's much more than meets the eye that sets apart Monona Terrace as a unique and distinct conference venue. While "unique" is a term that could be used to describe the color of your teenager's hair, we use it to highlight the beneficial aspects of Monona Terrace that you will not find in any other venue in Madison, or anywhere else in the United States for that matter.
Let's Start with the Facts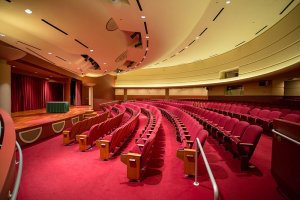 Monona Terrace is one of the most versatile, accommodating, and technologically advanced venues you can find. The complex offers 250,000 sq ft of space on five levels, part of which extends 90 feet over Lake Monona, and 85,000 sq ft of meeting space. The main exhibit hall is massive at 37,200 sq ft and can accommodate 212 10 'x 10' booths, 3,330 seats for a concert or speaker, or 2,000 seats for a banquet.
Or if that's too much space for your event, the Madison Ballroom is just over 13,000 sq ft and seats 1,400 (theater style) or 808 for a banquet (101 x 8 top round tables). For lectures and speakers requiring less space, there's the 5,540 sq ft Lecture Hall that seats 310. Monona Terrace also features 21 breakout rooms for smaller meetings and sessions to support any kind of conference or exhibition you have in mind.
If an outdoor setting is more to your liking, we are home to the largest rooftop garden in Madison. The 68,000 sq ft William T. Evjue Rooftop Gardens can handle 3,043 guests for receptions or other outdoor events. There is no better view of Lake Monona and downtown Madison than from our rooftop garden!
What Makes Monona Terrace Unique?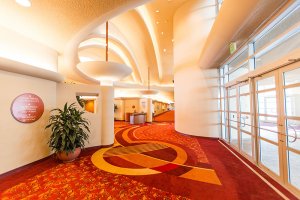 When guests arrive for conferences, conventions or events at Monona Terrace, "unique" becomes "wow." Of course, the visually stunning Frank Lloyd Wright design sets the stage for what attendees will experience here. Once inside Monona Terrace, the entire venue is the perfect setting for almost any gathering, large or small. We have earned a national reputation not only for the visuals, services, and facilities but also for the atmosphere provided by our professional staff. We are committed to creating a welcoming, comfortable space that promotes well-being so attendees can focus on the event and all it has to offer. We believe an event should be about discovery, inspiration and learning with no distractions.
Another unique aspect of Monona Terrace is the comprehensive suite of services you and your attendees enjoy that you will be hard-pressed to find in more traditional venues.
Technology
Our state-of-the-art technology includes redundant gigabit ethernet connections, which provides "always on", high speed internet access. Monona Terrace also provides Internet2 access and coverage throughout the entire five levels of the venue. Direct connections are also available in every room, as well as the rooftop gardens.
And, we offer our Speaker Presentation Service. Clients can upload any number of presentations onto our server, which can then distribute digital files to meeting rooms throughout the complex, as needed. You don't have to worry about compatibility issues involved with hooking up a laptop or having to load presentations onto a meeting room computer on the fly. Simply access your files from our server and you're live!
Going global? Monona Terrace has cutting-edge capabilities as well as translation services to link you with colleagues around the world.
Catering
From a few dozen to thousands, Monona Catering is an award-winning culinary service that serves a range of gourmet menu options to suit any taste or style. From continental breakfasts and banquets to receptions and elegant dinners, the cuisine from Monona Catering will elevate your event beyond your expectations.
Space Everyone Needs
Monona Terrace has 16,000 sq ft of public space which is available for registration, receptions, or just to take a break. Most of Monona Terrace, outside of your dedicated event/function space is public space.
Unbeatable Location
Monona Terrace is situated in the center of Madison's lively downtown area. We are just two blocks from the State Capitol Building and surrounded by restaurants and shops. And there's plenty of parking.
Proud to Be Green
Monona Terrace is Platinum certified by the U. S. Green Building Council's Leadership in Energy and Environmental Designs for Existing Buildings (LEED-EB) program.
And… the Views
If our location, services, and facilities aren't enough, our views of Lake Monona and downtown Madison are unrivaled. In fact, many of our conference rooms overlook the lake.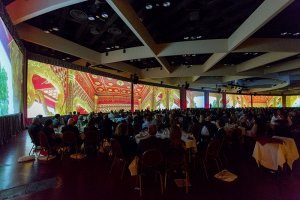 The comprehensive yet personalized offerings of Monona Terrace combined with the location, views, and architecture define what it is to be unique.
We understand the impact a venue can have on an event. It should never be a point of distraction, frustration, or anything else that can take away from the purpose of the event. Rather, the venue should provide all that you need and more. It should inspire and delight your guests and be an integral piece of what makes your event memorable.
We invite you to learn more about Monona Terrace and what makes us genuinely unique.