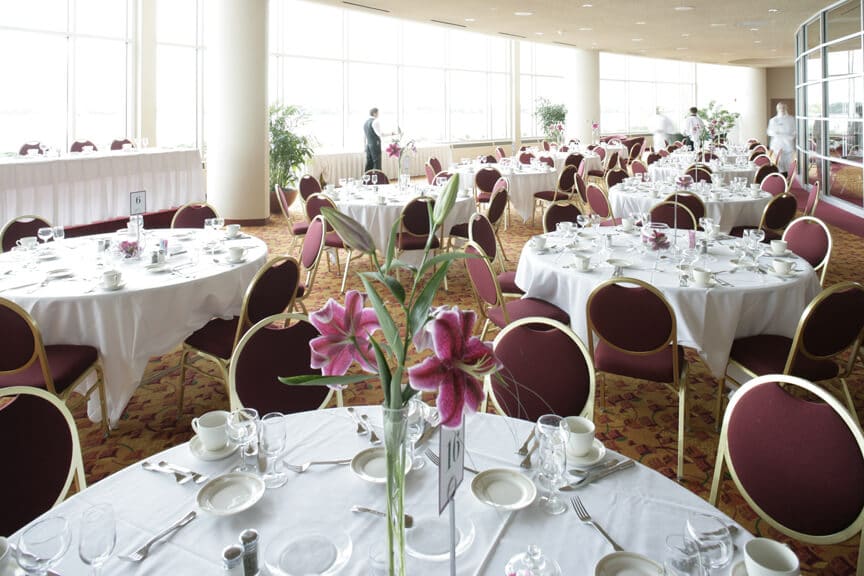 Some people might have you believe that "it's not easy being green." With so many things to consider when planning a wedding reception, thinking about the environment might seem like another worry. However, it is becoming simpler —and more fun—to apply "green" principles to weddings and receptions. There are easy ways to reduce your impact on the environment without taking anything away from your special day. In fact, being environmentally conscious can enhance the experience by giving it local flavor and adding to that "feel good" aspect of your event. There is nothing cookie-cutter about a "green" wedding reception!
Follow this wedding checklist in order to make your wedding reception more eco-friendly:
1. Location, location, location. How close is the wedding to the reception site? If it is walking distance, great. If you can find a locale like Monona Terrace that can meet both needs, even better! If that is not feasible, try renting a bus to transport people between venues. In many cities, hybrid buses are increasingly becoming available.
2. Consider environmental practices. Is your chosen venue making an effort to be more sustainable? What about the caterer? Monona Terrace uses on average 49% less energy than other convention centers in similar climates, and recycles half of its solid waste.  On-site caterer, Monona Catering, composts approximately 20 tons of pre-consumer food scraps and donates over 8,400 pounds of food to local pantries each year. Selecting a location with similar practices can greatly reduce your environmental impact.
3. Choose local or organic foods to serve to guests. However, be mindful of the season. Depending on the time of the year, certain foods may be difficult to obtain, and you should plan your menu accordingly. Look into local wineries as well. Award-winning wines are produced right here in Wisconsin.
4. Purchase flower arrangements at a farmer's market or from a local grower. Many local growers are organic. Transportation costs only add to your carbon footprint. Plus, you can feel good about supporting your local farmers!
5. Get creative! From eco-friendly wedding favors to decorations to candles (think soy!), there is plenty of room left for imagination. Take the guest book, for example. Instead of a book that might be shelved after the reception, have guests sign something that has meaning to you, such as a quilt, reception wine bottles, vinyl records, a guitar…the possibilities are endless!
As a LEED-EB Silver certified building, Monona Terrace is well-equipped to help make your wedding reception as "green" as possible while still preserving your original vision. With an on-site caterer, we make it convenient to accommodate all requests. From unique backdrops to stunning tabletops, celebrate in style at Monona Terrace. We are here to help make your wedding the unique and exquisite experience that you have always dreamed of having.
Breanne Chase, Social Sales Manager