Got a Couple Hours Between Events at Monona Terrace?
We've got ideas on what to do
We're in the heart of Madison, which means it's easy to explore the city on foot or bicycle if you have a short window of opportunity. What's there to do? Here are some thoughts. Just make sure you verify hours and locations before you head out. Have fun!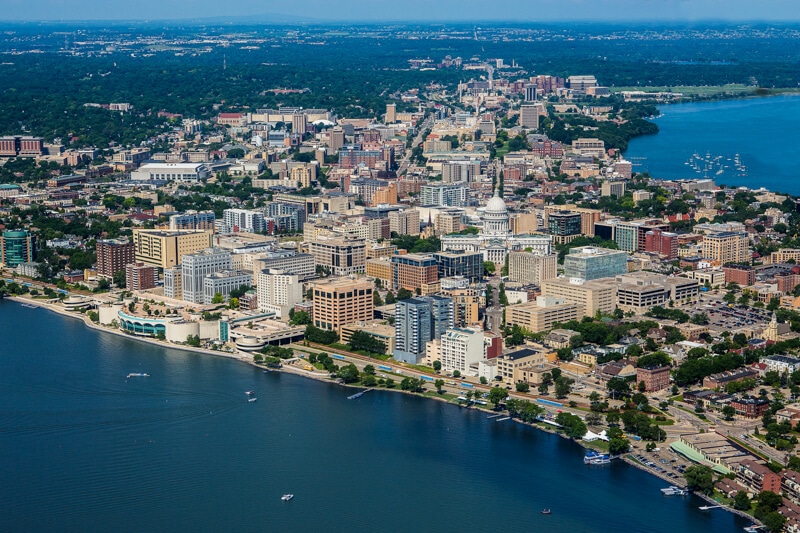 Madison BCycle Station
22 W. Wilson
Across the street from MononaTerrace
Rent a bike and get riding! Explore the city or stick to the trails around Lake Monona, which take you through B.B. Clarke Park and Olbrich Botanical Gardens. Return the bike at any of the 40+ BCycle stations around Madison.
Capitol Square
2 E. Main St.
.2 miles away
The capitol's gorgeous granite dome is the only one in the United States and the largest in the world. During the summer, head up to the museum and observation deck. Free tours are offered daily, except on some holidays. On Saturday mornings between April and November, vendors of the Dane County Farmers Market—the largest producers-only farmers market in the country—completely encircle the Capitol. There's no shortage of shops and restaurants within walking distance.
Wisconsin Historical Museum
30 N. Carroll St.
.4 miles away
What was once a hardware store in the 1950s is now three floors of artifacts and displays that bring to life Wisconsin's rich history. Climb into a tractor cab. Walk into a replica of a 1,000-year-old house. Explore a lead mine. Examine Wisconsin's political heritage and get an unforgettable view of the State Capitol building. Expert guides also offer short tours and share information beyond what's shown in the exhibits. Admission is $5 for adults 18 and over, $3 for children ages 5–17 and kids four and under are free. Wisconsin Historical Society members also enjoy free admission.
Wisconsin Veterans Museum
30 W. Mifflin St.
.4 miles away
See rare artifacts—including an assault helicopter that flew combat missions during the Vietnam War—full-scale dioramas and interact with permanent and temporary exhibits. Admission is free.
Just seven blocks long, this lively thoroughfare is worth exploring. Looking for a coffee shop? A place to eat? Feel like browsing a bookstore or art gallery, or shopping for that something you didn't know you needed? You'll find all of that and much more on State Street.
Madison Museum of Contemporary Art
227 State St.
.5 miles away
Stroll through a permanent collection of about 5,000 items, including works by some of the most significant American artists. Its striking three-story glass façade reveals the staircase, which takes you to four gallery spaces. Admission is free.
Home to the second-largest collection of art in Wisconsin, the museum's 20,000 works include paintings, sculpture, drawings, prints, photographs and decorative arts. Guided tours are available and admission is free.
Memorial Union Terrace
800 Langdon St.
1 mile away
Grab one of the signature sunburst chairs and take in the gorgeous views of Lake Mendota. And while you're at it, enjoy some tasty Wisconsin beer during the spring, summer and fall.
To learn about planning a meeting at Monona Terrace, contact Laura MacIsaac , Director of Sales, at LMacIsaac@mononaterrace.com or 608-261-4016. For wedding planning help, contact Breanne Chase, social sales manager, at bchase@mononaterrace.com or 608-261-4093.