Accurate registration numbers are one of the most important details of an event. There are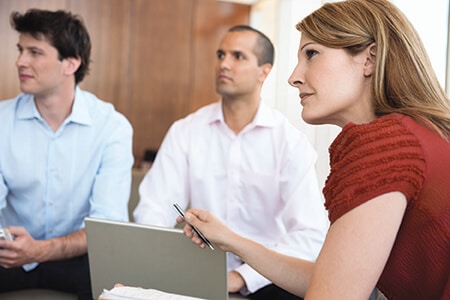 many who feel advance registration is optional. But as meeting and event planners know, it is vital in helping to ensure the day runs smoothly. While having registrants accounted for prior to an event is ideal, it's often not possible to know with 100% certainty. With this foresight and the right preparation, you'll be able to easily accommodate drop-ins. 
 1.  Ensure adequate seating
 Depending on the projected size of your event, plan for a 5% increase in unplanned attendees. If your setup includes tables and chairs, add a few additional places. If it's a theatre style setup, include extra seats in the back of the room. This will help to cut down on disruption if guests arrive late or your head count is greater than expected.
Ask ahead of time how your venue can plan to help you accommodate extra attendees. Find out if you can reserve chairs and where those extras are located to prevent last minute scrambling.
2.  Provide extra name badges
Name tags are a must-have at business and networking events. Depending on your event's formality, you may be able to get away with simple adhesive name tags for those who haven't RSVP'd. If your event is formal, bring extra badge holders or lanyards and blank cards. You may also want to look into bringing a portable printer.
3.  Print extra materials
If your event includes printed materials, find out if your meeting location provides access to a printer in case extra attendees arrive. Bring a USB flash drive with the files you will need as backup. No printer available? No problem. Bring 5% more of your printed materials with you to prevent a last minute rush.
Preparing for the inevitability of unaccounted-for attendees will help decrease your anxiety and go a long way in ensuring a successful event. For more tips on meeting planning and how Monona Terrace can help you prepare for those unforeseen bumps in the road, contact Laura MacIsaac, CMP, at 608-261-4016.