Rooftop Garden Views of Madison
Madison, Wisconsin is a well-known destination for multiple visit-worthy reasons, from its museums and eclectic dining scene to its diverse architecture, and of course, the lakes. But many people don't realize that Madison is also a garden-lovers paradise. Madison's gardens transform the city in the springtime to a natural splendor that cannot be missed.
Madison's gardens include professionally designed and maintained wonders as well as backyard and rooftop gardens that are literally everywhere in downtown Madison. The flora is magnificent. You'll find prairie flowers and plants native to Wisconsin but also an incredible range of other plants, flowers, and trees that is truly global. You would be hard-pressed to find more variety in one area than in the gardens of Madison, Wisconsin.
The Allen Centennial Garden
The Allen Centennial Garden is home to UW-Madison's horticulture school. The campus masterpiece is unlike any other university garden in America. With over a dozen themed areas, from the Japanese garden to English, Italian, and French gardens to the award-winning Frank Cabot Public Rock garden, you can wander along the guided paths for hours taking in the sensory smorgasbord that might also include a concert. And for architecture enthusiasts who are marveling at Madison's collection of Frank Lloyd Wright buildings, there's the Dean's Residence. This Victorian Gothic house, which formerly was home to deans of the agriculture school, is a nice departure from Wright's "Prairie School".
The Olbrich Botanical Garden
The preeminent garden in downtown Madison is the Olbrich Botanical Garden. This gem has been attracting visitors to Madison for nearly 70 years and features the Bolz Conservatory, which is a 50-foot tall glass pyramid. Once inside, you'll experience a variety of tropical plants, birds, and in the warmer months, the Blooming Butterflies exhibit.
The UW-Madison Arboretum
If you want to get in a little exercise, The UW-Madison Arboretum is the place for you. With 17 miles of walking trails and bike paths, the UW Arboretum is regarded as one of the most ecologically important wildlife and plant preserves in the world. Initially, 1,200 acres of unused farmland, the area was transformed by the university into a significant research and restoration project that is enjoyed year-round by locals and visitors.
The William T. Evjue Rooftop Garden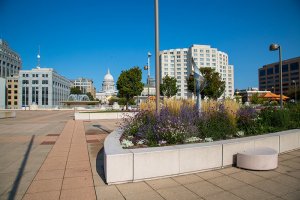 Madison is also replete with rooftop gardens. None is more spectacular than the William T. Evjue Rooftop Garden at Monona Terrace Community and Convention Center. Why? Not only is the William T. Evjue Rooftop Garden massive (68,000 sq ft and can accommodate over 3,000 guests), it also boasts the most incredible views that downtown Madison has to offer. And if that's not all, there's the Lake Vista Cafe, which serves up fantastic lunch and dinner options.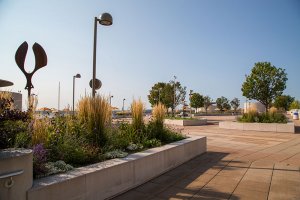 Let's start with the view. To say "panoramic" is an understatement. This rooftop garden sits atop Monona Terrace, one of the crown jewels of Madison's downtown architecture. Designed by Frank Lloyd Wright, Monona Terrace is on the shore of Lake Monona and is one of the most distinctive cultural community centers in the U.S. Home to conventions, concerts, expos, activities, farmers markets, private events, and even yoga classes, Monona Terrace is a must-see for anyone visiting Madison. And if you live here, you already know how amazing it is.
The view from the William T. Evjue Rooftop Garden extends across magnificent Lake Monona, book-ended on both sides by the downtown skyline and then a direct view to the State Capitol building down Martin Luther King Jr. Blvd. There is simply no better place in Madison to enjoy a view of the city and the lake than from this definitive rooftop garden.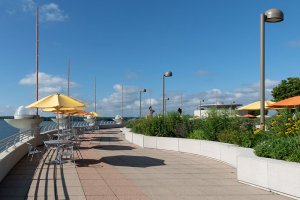 Hungry? Grab lunch or dinner at Lake Vista Cafe. Open in the warmer months, Lake Vista Cafe serves up local culinary favorites in a casual gourmet atmosphere. Or simply enjoy a glass of wine while enjoying another amazing sunset across Lake Monona.
For lovers of old R&B, there's a memorial bench here to commemorate Otis Redding, whose classic "Sitting on the Dock of the Bay" is still one of the most recognized hits from the '60s. Sadly, it was at Lake Monona that Otis Redding was tragically killed in a plane crash in 1967 just days after he recorded his hit song.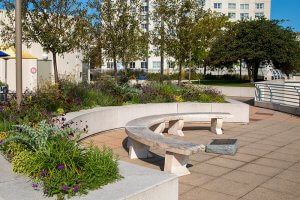 The garden's namesake, William T. Evjue was a prominent local media executive and politician, who founded both a newspaper and radio station and served in the state legislature. Mr. Evjue's philanthropic influence continues to this day with a charitable foundation in his name.
This year marks the 25th anniversary of the William T. Evjue Rooftop Garden. Make sure this is on your list of places to visit in downtown Madison, Wisconsin, whether you're touring Monona Terrace or enjoying an event there, finishing the Capital City State Trail, or just winding down a busy day of museums and other sightseeing. Just sit back, relax, and enjoy the view!
Visit Monona Terrace and our William T. Evjue Rooftop Garden.