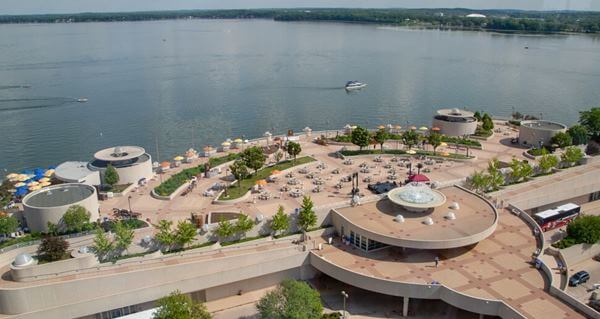 Six things to consider when choosing an outdoor venue
Outdoor events have been and continue to be increasingly popular venue choices. We love them just like you! And, in our opinion, the key to hosting a successful outdoor event comes down to finding the perfect venue. As the best outdoor venue in Madison, Wisconsin, one of the Midwest's most vibrant cities, we're answering all your questions—rain or shine.
Does the venue have natural features?
A beautiful venue is more than just pretty to look at; it can help save time! Whether you're shooting formal wedding portraits or candids, a venue with photo-worthy features allows you to stay in one place and capture your day without having to leave. Get the best of both nature and architecture with stunning backdrops of Lake Monona, immaculate  prairie-style gardens and dramatic city views of the Capitol on either side of Monona Terrace's 40,000 square foot William T. Evjue rooftop gardens. Take a virtual tour.
Does the venue have a backup space for inclement weather?
Try as we might, we still can't control the weather, especially in Wisconsin. Set contingency plans ahead of time to ensure the party goes on regardless of what Mother Nature brings. Monona Terrace provides peace of mind from the time of sale, ensuring in your contract that you have a backup space reserved in the case of inclement weather.
Does the venue have tents to rent? 
Tents are great for providing shade for musicians and wedding parties. Monona Terrace offers a limited inventory of 10' x 10' tents for rent, including the possibility to combine two tents to create a 10'x20'. We do not have larger tents to cover the entire area, but you are welcome to rent one from a professional commercial tent vendor the vendor of your choice (but who would want to with views like these?).
What about venue food and drink?
Choosing a venue often goes hand in hand with choosing the right catering menu, including taking additional care to plan for food safety when planning outdoor events.
Monona Catering is the award-winning, exclusive caterer of Monona Terrace Community and Convention Center. Everything is taken care of in-house for your convenience. Focused on sourcing local and sustainable food, environmental leadership, and attention to our guests, whether you are planning a wedding, convention, or special event, our menus provide the highest quality food, beverage, and service possible.
How about outdoor amenities? 
You can expect open space and fresh air when booking an outdoor venue, but what about the details? Full bathrooms, WiFi, and nearby parking are all features of our ADA-compliant venue that your guests can expect and enjoy.
Does the venue practice sustainability?
Since 2015, Monona Terrace is certified as a "green building" at the Gold Level by the U.S. Green Building Council's prestigious Leadership in Energy and Environmental Design for Existing Buildings (LEED-EB) program. Learn more about our sustainability efforts, including composting, recycling, water usage, catering operations, green cleaning, and more.
Questions? Contact Us! We can't wait to help orchestrate your incredible.