Monona Terrace is recognized with the second highest LEED rating
Before the world was talking about green buildings, Monona Terrace architect and visionary, Frank Lloyd Wright, pioneered an organic approach. By focusing on construction that honored the relationship between people and nature, and by using local material and incorporating solar energy into his plans, he essentially set the stage for sustainability.
The green vision continues today. In 2007, Monona Terrace became the first convention center in the nation to earn a LEED certification at the silver level. And in late 2015, the center earned the second highest rating possible, LEED Gold designation. The LEED rating system, which was developed by the U.S. Green Building Council (USGBC), is the foremost program for buildings, homes and communities that are designed constructed, maintained and operated for improved environmental and human health performance.
"Building operations are nearly 40% of the solution to the global climate change challenge," says Rick Fedrizzi, CEO and founding chair, USGBC. "While climate change is a global problem, innovative organizations like Monona Terrace are addressing it through local solutions," he says.
Solutions in our own backyard
Local solutions include composting about 42,000 pounds of pre-consumer food waste from Monona Catering each month on the UW-Wisconsin Madison campus. Or donating about 7,500 pounds of food to charity each year.
"While these examples demonstrate our commitment to reducing waste, we also find that conference organizers are looking for convention centers that take sustainability seriously. We've seen steady support from green conferences and conventions over the past several years," says Monona Terrace Executive Director Gregg McManners. He estimates that through 2014, those events represent nearly $17 million in overall economic impact to the Madison area.
More than just an award
Monona Terrace partnered with nonprofit sustainability consultants at Leonardo Academy to provide guidance and support to achieve the Gold level certification.
Leonardo Academy Senior Project Manager Bill Rattunde says that Monona Terrace didn't just approach the certification process as a way to win recognition. Instead, the convention center uses LEED certification as a management tool. "The result is that they are driving continuous improvements in their operations that positively affect their environmental footprint, indoor human environment and bottom line," says Rattunde. "Monona Terrace is leading by example."
Noteworthy measurements
Contributing to its LEED Gold certification, Monona Terrace has:
achieved an energy use rating of 27% below similar facilities across the nation
reduced water usage to 46% below the LEED benchmark
purchased Green Energy to offset 100% electric power consumption and 100% offset of nonelectric carbon emissions
moved to LED technology and away from fluorescent and metal halide lighting
recycled 2,533 pounds of electronic equipment during the performance period
(May 16, 2014 to May 15, 2015)
partnered with the University of Wisconsin-Madison We Conserve program to compost more than 20 tons of pre-consumer organic kitchen waste
donated about 7,500 pounds of food to charity each year
Looking for a green venue to host your event? Contact Laura MacIsaac, Director of Sales, lmacisaac@mononaterrace.com or 608-261-4016.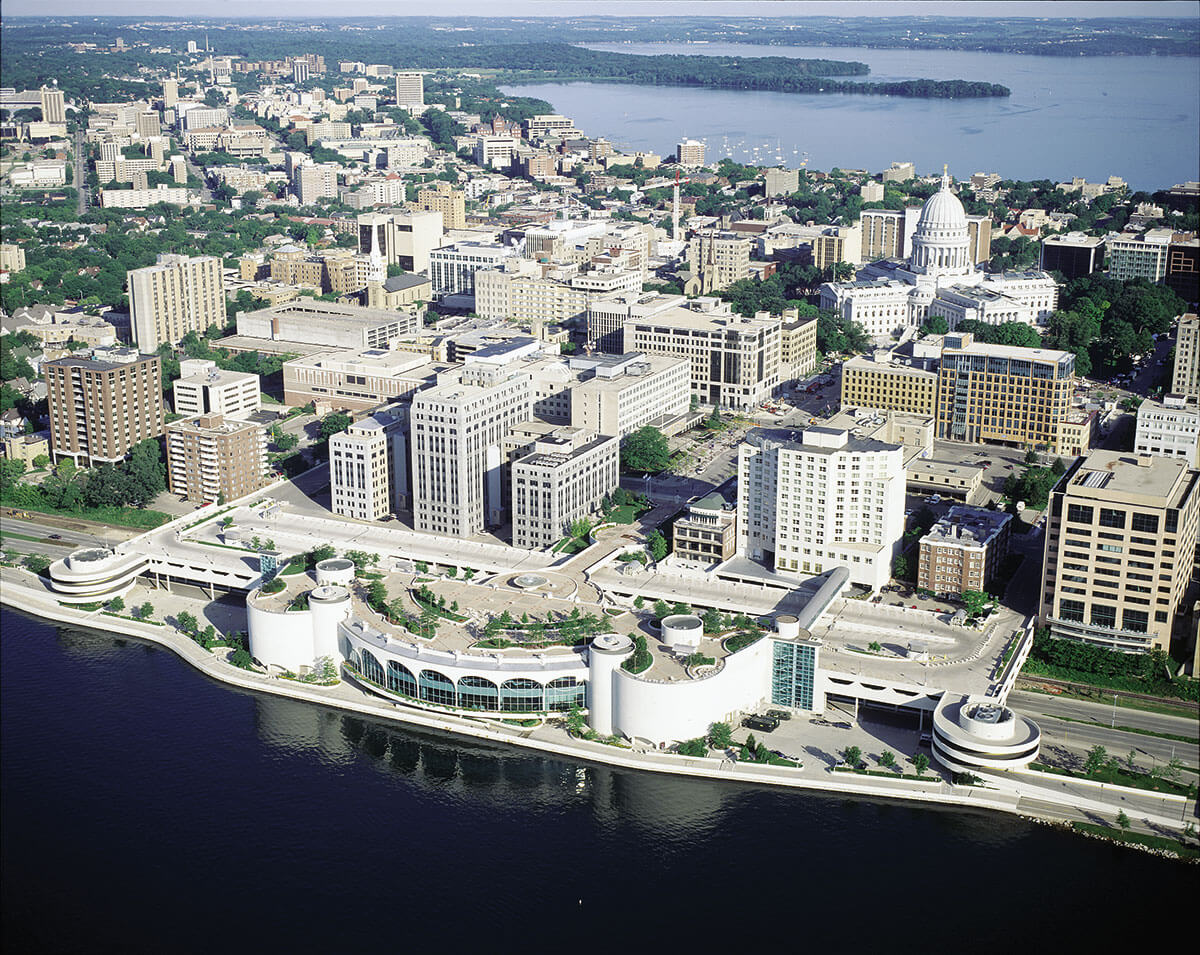 Monona Terrace hosts more than 660 events and 400,000 guests yearly. Staff members implement sustainability best practices in building, event and site management.