As the trends and "wish-fors" in the wedding planning process lean toward a more simplified approach, an increasing number of couples are consolidating their ceremony and reception into one location. And while many couples have uncovered a variety of benefits in doing so, how do you know if it's right for you? Let's explore some benefits and drawbacks.
Schedule coordination
A large part of wedding planning gymnastics is coordinating numerous venue schedules. A single location for a ceremony and reception simplifies the process. Trying to find a ceremony location and a reception location that are both available on the same day and at the times you need them can be a challenge. This doesn't even take into account all of the ancillary services you will need (DJ, band, photographer etc.). When you host both functions in the same venue this simplifies your busy day.
Back-up plan
If you dream of hosting any part of your special day outside, you run the risk of uncooperative weather. At Monona Terrace, we offer a complimentary back-up location in case of inclement weather for couples who elect to have their ceremony and cocktail reception outside. If you are looking at outdoor venues, be sure to ask how inclement weather is handled.
Photography
One potential concern you might have when consolidating your wedding location plans is you may have less time for wedding photos. This is not really the case at Monona Terrace.  With our central location there are numerous opportunities for great photos that are within close walking distance. You do not need to travel far to have great back-drops like our rooftop terrace, the Capitol, historical buildings and Lake Monona.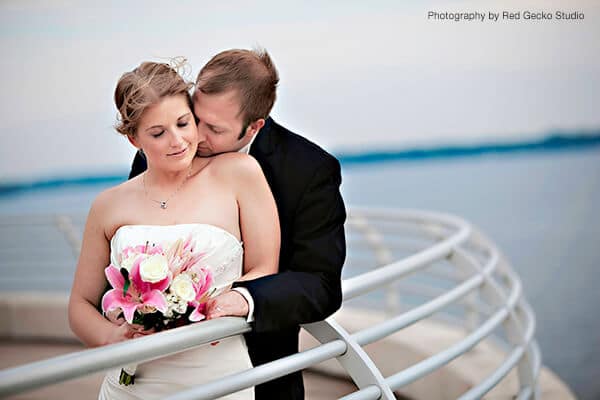 Conversely, with two separate locations for the ceremony and reception your guests will have travel time, which you can take advantage of for your photos. At one location, your guests may just be moving to a different level or room for your reception. One solution is to take photos before the ceremony. Another option is to build in a cocktail hour for guests while you are taking your photos. If that is not in the budget, being in a central location can provide your guests an opportunity to experience local attractions without having to drive anywhere while you are having photos taken. As with anything, location is key. You may even save some money on transportation costs for you and your wedding party with your ceremony, reception and photos at one location.
Money-saving opportunities
Let"s talk wedding budget. With one location, you will not need to double up on flower arrangements, or worry about having the decorations at your first location transferred to your second location in between events. At Monona Terrace, we simply take your flowers from the ceremony location to the reception location; a very simple and convenient process.
Whether one location or two, keep three key factors in mind when reviewing options:
Are you comfortable with the wedding coordinator at the venue? Make sure you feel you're able to trust the event coordinator to follow-through on your requests. If you're not comfortable with this person during the selection process, you won't be getting the help you need on the day of.
Can you see yourself getting married here? Envision your wedding day. Does the venue reflect you and your spouse-to-be's personality? Find a place where you'd be excited to welcome your guests.
Does the venue have a good reputation and references? Ask for references and seek advice about its reputation from friends and family.
Above all, make sure your plans are ironed out and coordinated with the venue, or venues, well in advance. It will go a long way to create a smooth experience and allow you to fully enjoy your special day. You need to be comfortable with the process from the first contact that you have with your venue.
To talk wedding options and ideas, please contact Breanne Chase at 608-261-4093 to discuss your special day.