Level 4 – Promenade West
"The Wright Picture" is a unique exhibition of photographs taken during the last 20 years of Frank Lloyd Wright´s life by acclaimed architectural photographer, Pedro E. Guerrero.
Exquisitely composed, with an eye to detail, texture, shadow and light, they document in a personal way Frank Lloyd Wright´s creative and social life from 1940 until his death in 1959. The exhibit features 62 of Guerrero´s classic black-and-white images, including Wright portraits, Taliesin in Spring Green, Wisconsin, Taliesin in Scottsdale, Arizona and private homes and public buildings.
Wright hired Guerrero in 1939 to interpret both his life and his work. For the next two decades, Guerrero became the chief visual intermediary between Wright and the architect´s eager audience.
Guerrero´s work has appeared in numerous documentaries on Wright, including Ken Burns´ film on the architect produced for PBS in 1999. His work has also been shown as part of Wright exhibitions at the Museum of Modern Art, the Whitney Museum of American Art and the Guggenheim Museum. His book, Picturing Wright: An Album from Frank Lloyd Wright´s Photographer, was published in 1994.
The entire exhibit can be viewed daily during building hours, 8:00 a.m. to 5:00 p.m., or as part of the daily public tour at 1:00 p.m.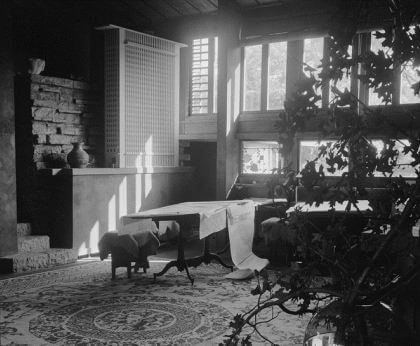 I composed this photograph while waiting for Mr. Wright
to decide whether or not he was going to pose for a portrait.
I was intrigued by the light and different patterns and
textures. I wanted to capture the atmosphere that Mr. Wright
surrounded himself with when he was working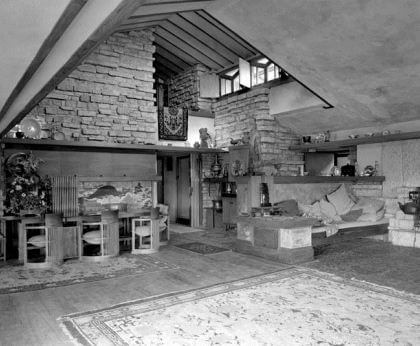 This has always been my favorite room in all the world.
Mr. Wright conceived of this room as being experienced
in a sitting position, so my photograph had to reflect that.
And I tried to light the room with indirect lighting to simulate
natural light. Mr. Wright said he could always recognize my
photographs because of this.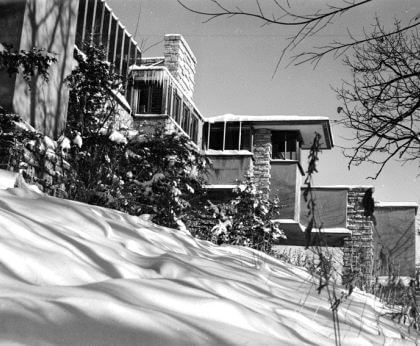 It snowed all night and when I woke up on this November
morning in 1940, the entire countryside was blanketed in
white. Being an Arizona native, this was the first snow I
had ever experienced. I was so excited that I just threw
my coat over my pajamas, grabbed my camera and began
taking photographs.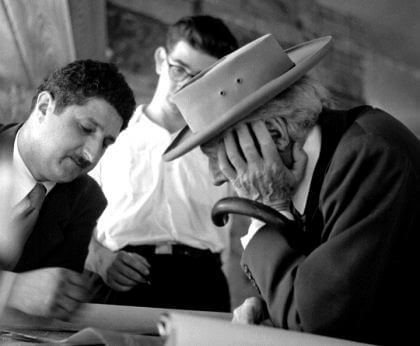 Mr. Wright asked me to come along to visit the Reisley House
under construction in Westchester County, New York. He said
he didn't always design a fireplace grate at the same time as
the house, because he didn't want it to appear too costly for
the client. So when he visited the Reisley's he sat down on
the spot and designed the grate.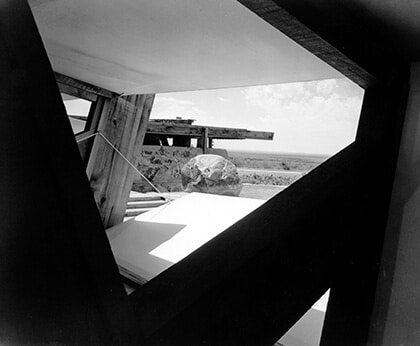 This is a view of Taliesin West that is no longer possible to
photograph. The canvas flaps which were lowered to allow
the desert breezes to pass through have been eliminated and
replaced with glass and plastic which can not be opened.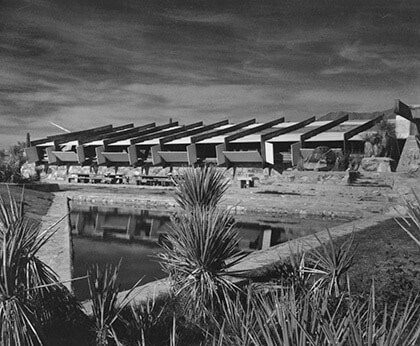 This view over the reflecting pool is one of the most widely
used of my images of Taliesin West. It was the welcoming
mural for the Museum of Modern Art retrospective of
Mr. Wright's work in 1941.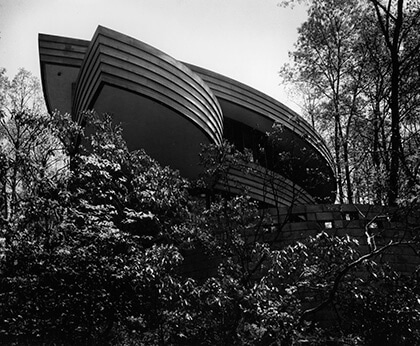 Shortly after Mr. Wright died in 1959 the architecture magazines
feverishly began publishing stories on his work. Architectural
Forum used a number of my photographs to accompany articles
on Mr. Wright and sent me to Bethesda, Maryland, to photograph
the house of Robert Llewelyn Wright, his son.
Exhibition photographs copyright © Pedro E. Guerrero. Photo comments are Mr. Guerrero's
"The Wright Picture" exhibition was organized by the Wisconsin Academy of Arts, Sciences and Letters and has been generously supported by the Overture Foundation and the Madison Community Foundation. All photos included in this section are copyrighted by Pedro E. Guerrero. Any copying or reuse of these images in any way is strictly prohibited. To inquire about obtaining permission to use any of these images, please contact Dixie Legler at dixie36@yahoo.com.