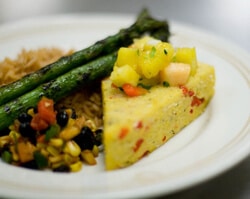 Meals and breaks are times to refresh and recharge your business event attendees while keeping them engaged. Whether sharing an elegant sit-down dinner or a cup of coffee and a fresh-baked pastry, your catering choices create a backdrop for sharing insights and camaraderie.
Follow these four catering tips to plan the perfect food and beverage options for your corporate event:
Finalize an event flow. To ensure your meeting or conference is covered with appropriate catering, have a schedule of events prepared before you talk to a catering manager. Understanding the number of sessions, potential breaks and timing will help them craft and space adequate snacks, meals and beverages while maximizing your budget.
Think of published menus as a guideline, not a mandatory. Monona Catering and other caterers provide published menus as a starting point, which means you can customize for your audience! From featuring all Wisconsin dairy products to substituting organic meats on your club sandwiches, partners like Monona Catering are happy to accommodate.
Special needs? Voice them! Quality catering operations, like Monona Catering, can meet preferences through a custom catering order, accommodating everything from vegetarian to gluten free to East Indian cuisine. Smaller orders are available to help keep costs down.
Dazzle with something unexpected. Infuse your traditional catering menu with a food trend such as an organic, locally sourced veggie appetizer or dessert cake pops. Featuring one exceptional offering impresses attendees without overtaking your budget.
Monona Catering has more than 250 years of collective catering experience, including more than 30 with their Executive Chef Matt Reichard. Still have questions on how to select the best catering menu for your guests? Contact Monona Catering to find the catering mix that's right for your next corporate event or business meeting in captivating Madison, Wisconsin.
By Patty Lemke, CPCE, General Manager for Monona Catering, exclusive on-site caterer for Monona Terrace.