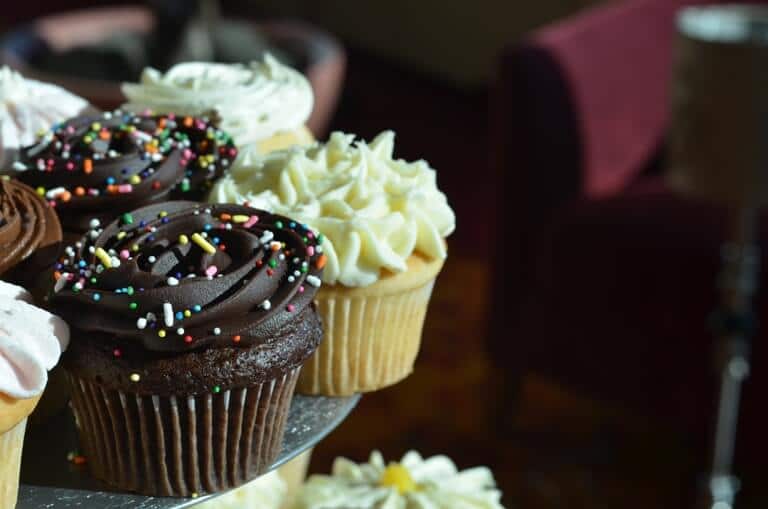 What's the latest trend in wedding cakes? Well, how about a wedding without one!? Many couples tend to go for a more unique approach to dessert these days including candy buffets, petite desserts or cake pops. This playful, new spin on the traditional wedding cake presents couples with many options to serve their guests on one of the most memorable days of their lives.
1. Cupcakes. A popular choice among couples, the days of plain chocolate and vanilla are a thing of the past. How about flavor combos like dark chocolate with sea salt caramel frosting, or white chocolate blackberry, or even a cinnamon pecan french toast wedding cupcake!? A beautiful presentation with multi-tiered stands or other props can make the difference as well. The displays can be as elaborate as the cupcakes themselves!
2. Cake pops. What better way to say love than with cake that is conveniently and beautifully mounted on a stick? Cake pops are very popular with weddings as well as smaller gatherings of birthday parties, bachelorette parties and anniversary celebrations. These tasty treats are easy and fun to customize to your event with colors, toppings and shapes.
3. Candy Buffet. Why not theme the dessert to your event? Consider a color theme, or a retro theme of candy from days past, or even a seasonal approach. For a fall wedding, how about candy apples, candy corn and other sumptuous trick-or- treat type sweets?
4. Petite Desserts. Who wants to choose just one item for dessert? Why not have it all? Petite desserts are the perfect accompaniment to an elegant affair adding flair through color, design and variety of flavors. These may include chocolate covered strawberries, cupcakes, cake pops, candy, éclairs, fruit tarts, miniature cheesecakes, and cookies. The options are endless!
5. S'mores Buffet. What is more playful and creative than letting your guests create their own s'mores? There is a huge variety of cookies, crackers, marshmallows of all flavors, shapes and sizes, melt-in-your-mouth chocolates, and colorful sprinkles to cover your gooey, toasted marshmallow. Or how about hazelnut spread or peanut butter to smear on your sweet creation? Let your imagination run wild!
6. Personal Cakes. For couples still wanting the traditional cutting of the cake, yet are interested in new dessert options, simply ask your catering professional for a small classic wedding cake made just for two, so that you can have your cake and eat it too!
At Monona Terrace, more future brides and grooms are opting for unique dessert ideas to enhance their event. On site caterer, Monona Catering, specializes in decadent and beautiful sweet treats made on-site in the Monona Terrace bakery. With a trusted catering professional, the final food event at your wedding will leave guests with an unforgettable remembrance of your most special day!
Wendy Brown-Haddock, CPCE, Senior Sales Manager, Monona Catering