There are dozens of tasks that go into planning an event to ensure it runs as smoothly as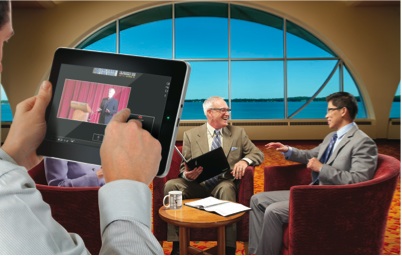 possible: you need to book the right location, coordinate schedules, send out the invites, keep track of RSVPs, manage refreshments or catering, and more. The complexities of event planning make a helping hand (even one that operates digitally) more than welcome.
While Monona Terrace has a staff of seasoned experts on hand to help you take care of many of these important details, there are several helpful tools event planners can keep as close to them as the nearest mobile device. Here are five options that may help to make your event planning even smoother.
1.  Evernote (Free, iPhone, iPad, Android)
The event planning process can become a mountain of sticky notes and loose-leaf paper. With Evernote, you can sync all of your notes and ideas in the cloud with fully-searchable capabilities – even text within a photo. Evernote also includes a voice memo feature, allowing you to dictate your event ideas and record them into a note for review later on. It's great for the brainstorming phase of your planning process.
2.  Super Planner™ ($9.99, iPhone)
There are numerous moving parts within event planning that can become overwhelming. Welcome: Super Planner. Super Planner provides planning tools and tips in one easy-to-navigate app. The app also allows you to calculate venue capacity in different seating configurations, food and beverage counts and the number of staffers you'll need to have on hand. It's a great tool to simplify the often-complex decisions you'll need to make.
3.  Pageonce (Free, iPhone, iPad, Andorid, BlackBerry, Windows Phone)
Pageonce is a financial planning app geared toward personal finance, but it can be applied to event planning as well. The app helps track payments, fees and credit cards. It is a useful tool in organizing both business and financial aspects of event planning.
4.  Event Espresso iPad app (Free, iPad)
Event Espresso helps manage the event-day details, keeping you organized throughout the day. The app includes:
Detailed ticket scanning system

Manual attendee check-in and check-out

Registration and check-in tracking

Attendee, event and venue information

Seating chart abilities
5.  Around Me (Free, iPhone, iPad, Android)
Help keep attendees engaged even when they're not on site. With Around Me, you simply type in what you're looking for (think: Starbucks, bank, drug store) and it will pull up addresses, directions and contact information for the nearest locations.
When combined with the seasoned, helpful staff at your event venue, these organizational apps are sure to make your next business function appear smooth and seamless to your attendees and take the worry out of your planning. The professionals at Monona Terrace are ready to assist you with these, as well as other handy tools that help make your next important event a great success!