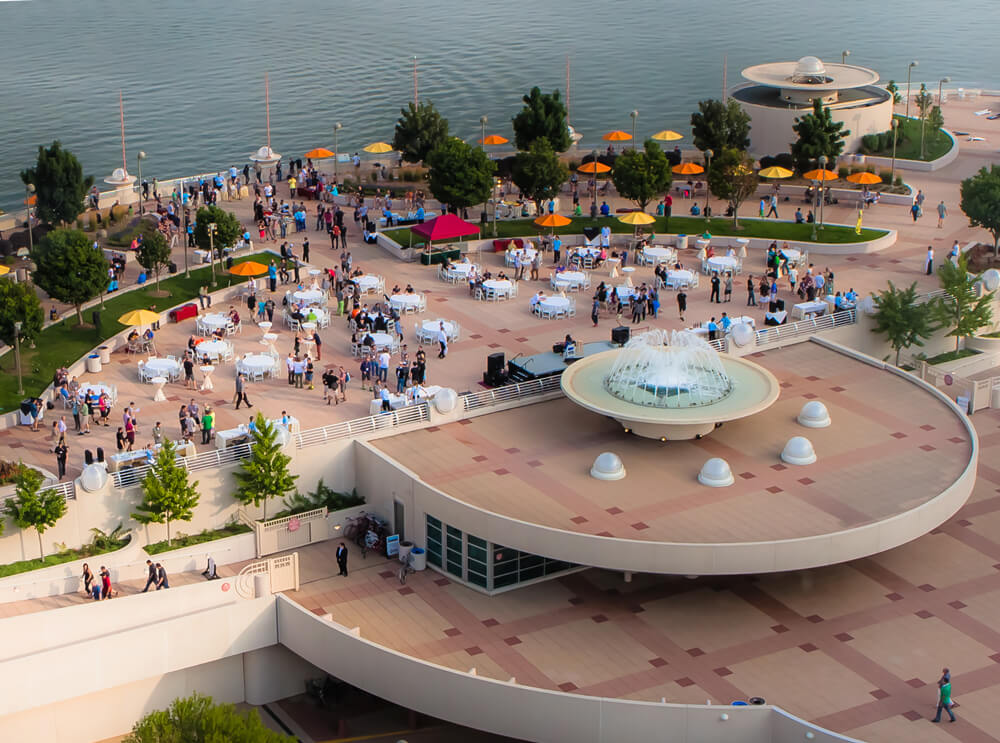 Relocating your typical meeting to an offsite location is a great way to infuse new energy and amp up creativity for an otherwise predictable event. But have you ever thought about taking your offsite meeting to another level? Fresh air can do wonders for morale and meeting efficacy. Physically moving part or all of these gatherings outdoors may be that extra push a team needs to come up with the next great idea, solve a problem or simply introduce an unexpected new element. And with the right venue, indoor back-up space allows a seamless transition to moving the event inside in the event of rain.
Monona Terrace is one such venue. With its recently updated outdoor function space – the William T. Evjue Rooftop Garden – Monona Terrace provides the versatility for both an outdoor or indoor meeting. Warm and slightly cool weather gatherings on the Rooftop Garden are enhanced by a 360-degree view along the horizon. A giant fountain, new tables and colorful umbrellas offer eye-pleasing amenities. Lake Monona and the downtown Madison skyline make for unique and majestic event backdrops.
Here are a few more tips to prepare for and make the most out of an outdoor meeting option:
Give your guests a head's up. Make sure your attendees are aware the meeting will take place outside. Remind your guests dress for the season – a light sweater or jacket as necessary – and to bring sunglasses.
Power-up. Make sure your venue has convenient outlets or access to extension cords to ensure attendees are able to use their electronic devices as needed.
Light it up. If any of your event or meeting will be held during evening hours, investigate your venue's ability to provide lighting – both practical and mood – to make sure the setting of the sun doesn't mean lights out on your meeting.
Know your audio needs. Audio can be one of the most difficult aspects to control at an outdoor event. Find out if your venue has a solution for this – portable PA systems and high-quality microphones are a must.
Keep comfortable. While at times overlooked, comfortable seating options are vital. They help keep your meeting-goers happy and focused. Have your venue share seating options ahead of time – and test them out!
Sound like an outdoor event is something you'd like to give a try? Contact Laura MacIsaac, Certified Meeting Professional, at 608.261.4016 to discover your exciting options.