Meet Our New Executive Chef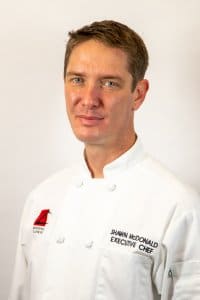 For the last 20 years, Shawn McDonald has been cooking up creative, delicious dishes at some of the top restaurants and hotels in Minneapolis. We're fortunate to have him in Madison now, where he's assumed the role as Executive Chef at Monona Catering, Monona Terrace's exclusive in-house caterer.
Shawn replaces Matt Reichard, who retired last year after 30 years as Executive Chef with Monona Catering and sister company, Kelber Catering. Shawn's career path mirrors that of his predecessor, having spent the last four years in large scale catering operations as the Sous Chef at Kelber Catering in the Minneapolis Center. Prior he was Owner and Executive Chef of the Sovereign Kitchen and Bar in Minneapolis.
"It's nice coming to Monona Catering because the system is already in place. I plan to continue to keep up with the latest food trends that Monona Catering is known for with a focus on fresh and locally sourced ingredients."
Shawn's specialties include scratch cooking, sauces, and creative plating. When he's not in the kitchen, Shawn can be found volunteering in local dining halls, foraging for mushrooms, playing disc golf at community parks in Madison, and spending time with his newborn son.