The Wedding Trends The Pros Are Seeing Right Now
Wedding magazines love predicting what'll be hot — and certainly what's not — each year. And that made us wonder: Just what are the trends that event planners at Monona Terrace are seeing right now? Here's what one had to say.
Vintage Rustic is Replacing Straight-Up Rustic
Think Victorian candelabras mingling with glass canning jars that double as candle holders. Or delicate lace meandering over a burlap runner, and sweet little wooden boxes overflowing with roses or succulents. "Brides today like to enhance the look of the venue with a personalized mixture of casual and formal, and new and old," says Wendy Brown-Haddock, CPCE, director of sales and catering for Monona Catering at Monona Terrace Community and Convention Center.
One-Of-A-Kind Menus Take the Cake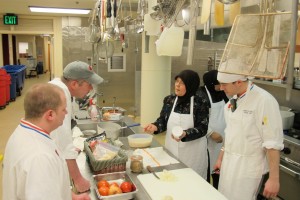 She also says that she's seeing more menu customization. "For example, some couples incorporate a favorite family recipe that's been passed down through the generations, which could even include a favorite cookie or cupcake recipe," she explains. Creating ethnic menus that promote the flavors of their heritage are also important to today's brides and grooms, says Brown-Haddock. "It symbolizes their connection together and makes their event unique and special for them," she says, adding that signature cocktails are still popular.
Themes Are Supreme
Beyond food — and beverage-related themes, couples often choose other themes to celebrate their individuality. Brides and grooms often use their travels together or jobs as inspiration — anything that makes them, and therefore their event, unique.
Some Things Never Change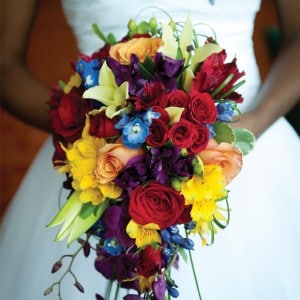 Like flowers. They're a must-have at any style of wedding. But wedding planners are again seeing more individualization, further reflecting the desire of the couples to let their personalities show. Monochrome-colored florals are still well liked, as are large displays featuring many colors. Teal, champagne and amber are popular color choices.
Engaging The Audience
Brown-Haddock says that DJs are providing more interactive entertainment and "the trend is to fully engage guests with all of their senses throughout the evening, which creates memorable experiences." (Definitely keep those smartphones charged so you don't miss video opportunities.) Photo booths, which are taking the place of video slide shows, also give guests a chance for interactive fun.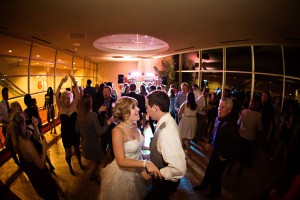 The key to the perfect celebration? Watch the trends if you want, but make sure to personalize your wedding with what makes the two of you shine. After all, it's your day.
Looking for the perfect venue for your wedding? Contact Breanne Chase, social sales manager, at 608.261.4093 or bchase@mononaterrace.com.