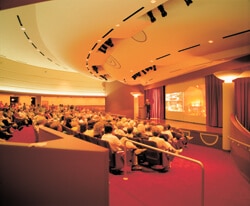 If there is one thing you don't want in an event you're planning, it's surprises. Concerns about unexpected expenses, missing audiovisual equipment, rooms that feel too large or too small for the number of attendees you have – all may be keeping you up at night as you plan an event. But they needn't be.
The most important step for mitigating unwelcome surprises: event planning. And remember, you're not alone. Outline the important details of your event before meeting with an event coordinator at your potential or chosen location. When signing on with a team like the one at Monona Terrace you can rest assured knowing a dedicated event coordinator is there as your partner throughout the remainder of the planning process.
For the most success, prepare early by gathering the following details from our event planning checklist to share with your event coordinator:
Brief description and name of the event
Dates: if they're established or if there is flexibility for potential cost savings
Goals/objectives of the event: motivational, educational, networking/socializing, fund raiser
Estimated attendance and who attendees are: employees, clients, the public. Are attendees local, from the region, U.S. or international?
Rough schedule of the event, including meals and breaks
Previous experience with this event and others (event history): successes and opportunities for improvement
Preferred room set up styles and staging needs
A/V equipment and technology needs
Additional equipment or tools necessary
Special interests, needs or concerns of attendees
Definition of what success means to you (and those who have a vested interest in the event!)
Fueled with responses to this checklist, the team at Monona Terrace is able to do what we do best: maximize an event budget and ensure flawless execution.
Our team members become a key resource throughout the event, from the planning phase up to, and including, the day of the event. A designated event coordinator and on-site A/V professionals ensure all you have to focus on is the invaluable content for your event.
Our seasoned professionals anticipate your needs before they can become distractions – or unwanted surprises. So breathe, and enjoy the success of an event with focused energy. Let this be an event remembered for all the right reasons.
By Meg Statz, CMP, Event Services Manager at Monona Terrace