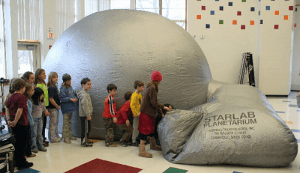 STARLAB® Portable Planetarium
Friday, October 19, 2018
Showtimes:
5:45 – 6:45pm
6:45 – 7:45pm
7:45 – 8:45pm
8:45 – 9:45pm
This inflatable dome provides interactive and educational fun for ages 6 and up. Paul Kinzer will show and discuss images of constellations and share space images – some direct from NASA – of the Earth, Moon, planets, the Milky Way, and various deep-space objects. This is an event you won't want to miss!
IMPORTANT INFORMATION: The content of this event is suitable for ages 6 and up. Attendees will be required to crawl through a short tunnel to get in and out of the Starlab® dome and will be sitting on the floor during the presentation. Late arrivals will not be admitted.
Please contact Misty Lohrentz for more information mlohrentz@mononaterrace.com, 608.261.4062.
TICKET REQUIRED. $5/person, limit of 5 tickets per patron.
https://www.eventbrite.com/e/starlab-portable-planetarium-registration-48885811779?aff=ehomecard