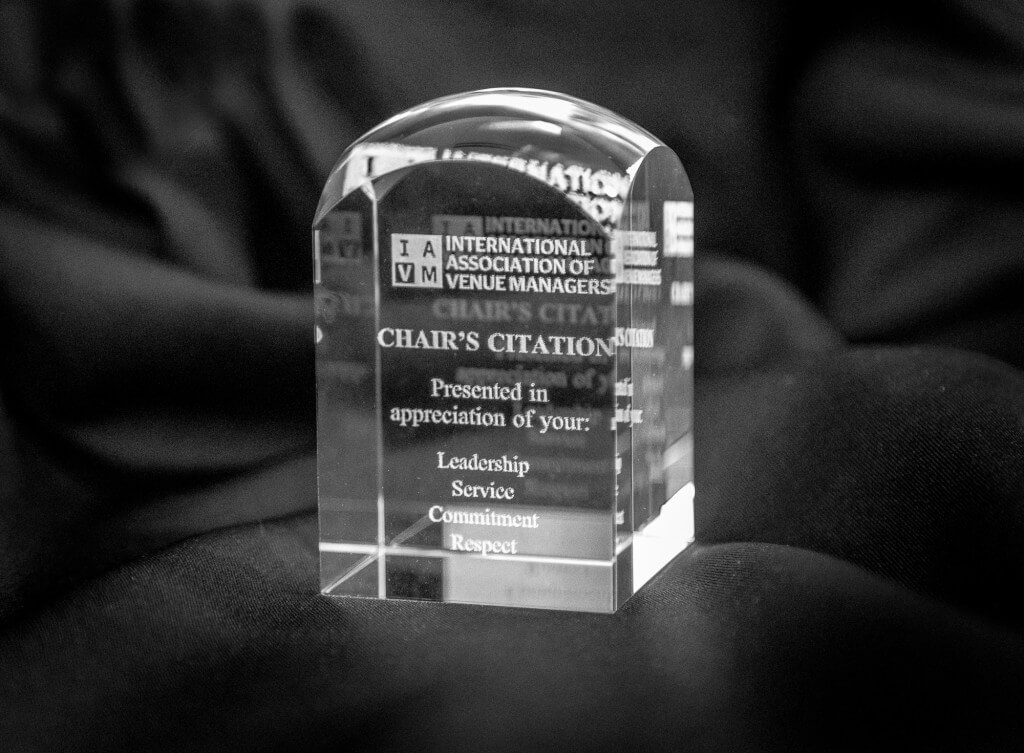 FOR IMMEDIATE RELEASE
July 27, 2018
MEDIA CONTACT: Fran Puleo
(608)261-4011
MONONA TERRACE EXECUTIVE DIRECTOR RECEIVES
PRESTIGIOUS IAVM AWARD
Madison, WI – Monona Terrace Community & Convention Center Executive Director, Gregg McManners, was honored with a Chair Citation at the International Association of Venue Managers International Conference in Toronto, Canada. The Citation is designed to recognize the extraordinary contributions of individuals, who personify the IAVM commitment to inspire leaders, build expertise and create connections for life. The award recognizes individuals who bring great distinction to the industry and help the association achieve its mission to educate, advocate for, and inspire venue professionals.
Upon presentation of the award, IAVM Chair, Doug Booher, noted Gregg's 16-year membership within the association and his six years in leadership positions including serving on the Board of Directors and the Life Safety Council. He concluded, "This past year when I was constituting a real estate task force and needed another calm, methodical, and inquisitive mind to round out the group, Gregg immediately came to mind. After a quick explanation, Gregg readily agreed to assist the association once again, bringing his unique blend of approach and experience to bear to the great benefit of International Association of Venue Managers. Thank you, Gregg for your distinguished service to IAVM."
The association's leadership dinner was held at the National Hockey League Hall of Fame on Sunday evening, July 22nd.
Monona Terrace hosted 680 events in 2017 resulting in over $48 million in economic impact for the community. In addition, the center produces and sponsors free or low cost community events that serve 45,000 people each year. The Frank Lloyd Wright-designed facility has a mission to deliver an exceptional and inspirational experience.
For additional information, visit mononaterrace.com or call (608) 261-4000.
####