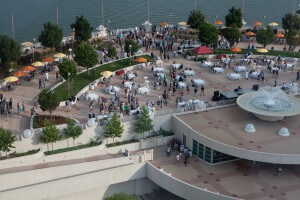 "We're so dialed in here. This is a place that embraces our vision and where we can make almost anything happen, logistically and creatively."
Laurie Koch
Trek Bicycle
An inspiring event starts with an inspiring location. One that
opens up possibilities—both for your event and your attendees.
THE IDEAL LOCATION COULD BE CLOSER THAN YOU THINK.
They'd been to Breckenridge. And Santa Cruz. But with Madison practically in their backyard, Trek Bicycle, headquartered in Waterloo,
Wis., decided to give the city—and Monona Terrace—a try for the company's annual Trek World show. "It's perfect for us!" says Laurie
Koch of Trek, who directs planning for this momentous event. "Our retailers and distributors come from all over the world. And year after year, everyone is excited to be here again. Excitement and energy—that's why people come."
UNIQUENESS HAS A WAY OF ADDING UNIVERSAL APPEAL.
Naturally, the Trek group always takes advantage of the bike paths surrounding Monona Terrace, but that's really just icing on the cake, says Koch. "We're so dialed in here. This is a place that embraces our vision and where we can make almost anything happen, logistically and creatively." For example, Trek held a between-session beer tasting on Monona Terrace's picturesque rooftop garden. And one year, 1,200 attendees rode bikes to a nearby stadium and played kickball.
To make your meeting remarkable, look for a destination city and venue that offer:
A "wow" experience from the very first impression, with both stunning architecture and natural beauty.
Unique on-site spaces for between-session breaks that entertain and engage.
A vibrant dining, shopping and museum district just steps from the facility, with a little something for everyone.
Madison is an eclectic city, home to the State Capitol and the University of Wisconsin, with a wealth of dining, retail and entertainment joining the two and extending to the lakeshore, where you'll find Monona Terrace. It's an exciting spot for a not-to-be-missed meeting. And it's all here waiting for you.
To experience Monona Terrace, contact:
Laura MacIsaac, CMP
Director of Sales
lmacisaac@mononaterrace.com
608.261.4016